PETE'S HIGH-ENERGY PARTY – THE PARTY THAT NEVER STOPS!
Get ready to encounter the most unique party experience in the country. Pete's high-energy show will have you dancing and singing at the top of your lungs to all of your favorite hits from today, to the best 80's rock, 90's pop and more.
It doesn't matter what you're celebrating; Pete's is the place. Every night is one ginormous bash, making every occasion one to remember. So if you are planning a birthday, bachelorette party, anniversary celebration, divorce party, or any other type of shindig, including all corporate and team building events, join us, and you will leave wanting more. Promise!
No matter what special night you're celebrating, be sure to make it one to remember! Call ahead or book online to reserve a table and receive VIP treatment all night long. You can avoid the wait and make sure you grab the best seat in the house for you and your crowd.
Table reservations are the best way to make sure you snag a seat at our live show. Get started by filling out the table reservation form and we'll contact you as soon as possible to go over the details of your reservation. Be sure to take a look at our special event packages as well to celebrate your special occasion with Pete's. If you're celebrating a bachelor party, a birthday, the holidays, or hosting a corporate event, choose Pete's for a night to remember. Reservations are NOT Required & walk-ins are welcome all night long!
CORPORATE EVENTS
Pete's Dueling Piano Bar originated in Austin, Texas, in 1992. Our success and outreach of 4 locations across the state of Texas is a direct result of the professionalism we demand of our entertainers, staff members, as well as the high standards we hold for booking special events for the past 29 years.
Hannah Matlock – Event Coordinator
BIRTHDAY PARTIES
Adults of any age can celebrate their birthday in style at Pete's Dueling Piano Bar. Celebrate another trip around the sun with our live show, joining your friends in the spotlight as you sing along to a collection of your favorite hits.
BACHELORETTE'S PARTIES
While getting married can be one of the most wonderful events in your life, no wedding is complete without a boisterous and memorable bachelor or bachelorette party. And at Pete's Dueling Piano Bar, we know how to make it a party you won't forget. Host your celebration in our versatile space, enjoying delicious cocktails and singing and dancing to all your favorite tunes.
HOLIDAY PARTIES
Let's face it: while holiday parties can be a blast, the planning isn't always a walk in the park. Pete's Dueling Piano Bar does the work for you, making this year's company or corporate holiday party a breeze to plan. Whether you're planning an official company party or just looking for a holiday outing with….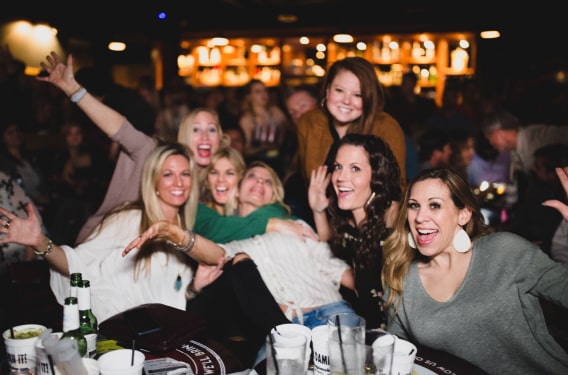 WIN A PARTY
Join our mailing list for a chance to win a Party for you and ten friends!
GET IN TOUCH
Specials and offers vary by location
and subject to availability.
What is a Happy Hour party? Parties can include a free appetizer buffet, drink specials, drink tickets, free admission, and more!* Isn't that how you want to spend your weekend? Sign up below for your chance to win.