FOR THE LOVE OF PETE.
Simply put—there's no place like Pete's.
Pete's started as a one-man band on Austin's 6th Street in 1992, complete with peanuts on the floor. Now, after 30 years in the biz, he's a seasoned party starter whose sing-along experience has grown into a national phenomenon known for getting guests figured up night after night.
Who is Pete exactly? He's an entertainment enigma who prefers to keep a low profile. What's most important to him, really,  is that everyone feels 100% themselves when at his watering hole, so you are encouraged to sing, scream, and dance your heart out when you're here. 
If you're looking to let it all go for an evening, get to your local Pete's, stat.
"Pete's Dueling Piano Bar® has been a labor of love for me over the past 30 years. It all started when I was just a door host, then quickly moved to floor manager at the original Pete's Peanut Bar in Austin, Texas. There, a fellow friend of Pete Greg Sacony took me under his wing and taught me everything he knew about running a bar. I eventually became an owner in 1997, and in the years since we've expanded across Texas and up to Chicago. I'm proud to say that Pete's is now one of the most successful dueling piano bars in the country, and it all started with a simple dream and a lot of hard work. It's all thanks to Pete!"
– Corey, Pete's #1 hype man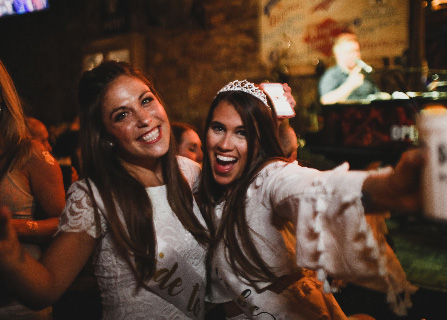 THE 
PARTY
The party may have started back in 1992, but it has only gotten bigger and better over time. We are not only known for our high-energy piano show, but we are experts at creating memories, with everything from our VIP experiences, to our incredible drinks and just making sure every person that walks in the room has the time of their life. We are especially fantastic at making every birthday, bachelorette, or any special occasion for that matter a step above the rest. Pete's Dueling Piano Bar® is the only place in town that you can get it all.